Happy 440th Birthday, Caravaggio!
Happy Birthday, Caravaggio! You've had a great year. People all over the world, especially Italy, celebrated the 400th anniversary of your death on July 18, 1610. Exhibits displaying your masterpieces sprung up internationally, a couple new books about your life were published, and scholars think they found one of your long lost paintings, St. Augustine. Despite being simultaneously loved and hated in Italy during your life, your art now graces some of Italy (and the world's)  greatest museums, and your life has intoxicated many of the world's incredible scholars.  You don't look too happy about the birthday hat I photoshopped on top of your head, but humor, photoshopping, and pointy birthday hats are a tradition in today's world. Besides, you enjoyed practical jokes, even if you could get a little mean. Baglione and your clever poetry from that summer in 1602, remember? Like Albrecht Durer, when he found out about the (fake) death of Martin Luther, I wonder what you could have given the world if you had just lived another 20 years. Your sudden death caused pleasure for some, who wrote some wild rumors about your life. Your death also propelled your art into the world through the Caravaggisti and gave you international posthumous fame. The saddest part about your life, for me, was that you never lived to receive news of the Papal bull lifting the pena capitale off your head. You'll be happy to know that in the last 400 years, public and scholarly perception of you has changed dramatically.
The following, most from Philip Sohm's article, Caravaggio's Deaths, are examples of 17th century perceptions of Caravaggio by fellow artists and biographers: 
"When [Giovanni Pietro] Bellori called the twelve artists of his Vite eleven saints … and one bad man … it is clear that among these twelve apostles Caravaggio played the role of Judas" (454).
Poussin accused Caravaggio of betraying art, and, when he saw Caravaggio's controversial The Death of the Virgin, he exclaimed: "I won't look at it, it's disgusting. That man was born to destroy the art of painting. Such a vulgar painting can only be the work of a vulgar man. The ugliness of his paintings will lead him to hell."
According to Francesco Albani, Caravaggio was responsible for the "decline and total ruin of painting" (454).
"Vicenzo Carducho called Caravaggio the 'anti-Christ' and the 'anti-Michelangelo' because he led his followers away from the truth" and, "just as he rejected artistic authorities… so, too, did he deny Church and family" (455).
Filippo Baldinucci thought Caravaggio was delusional upon receiving his medal from the Order of the Cross of Malta – he "referred to the proverb, 'You can deck out an ass with a fancy saddle and gold braids as if it were a noble horse, but once it brays you know it is just an ass" (456).
Giovanni Baglione described Caravaggio rather mildly, given their disagreeable history: he was "sarcastic and haughty … quarrelsome…" Baglione's biography of Caravaggio can be read here, in English.
Despite all the people that hated Caravaggio as a person and thought his art represented the decline of painting, he had powerful patrons that testified to how in demand his art was. He worked for Francesco Maria Del Monte, a Cardinal who commissioned Caravaggio's early works featuring young adolescents, such as Sick Bacchus and The Cardsharps. Del Monte's support and commissions moved Caravaggio up on the artistic ladder of competitive Baroque Rome, and while he was there, Caravaggio received continual commissions for some of Rome's most important churches and influential citizens. It was in Rome, too, that he attracted an artistic following, the Caravaggisti. Killing a man, fleeing Rome, and having a Papal bounty on his head could not dampen Caravaggio's popularity as an artist. Some of his most powerful protectors were also his patrons. He spent the last four years of his life fleeing from bounty hunters and the authorities and continuing to paint devotion-inspiring and thought-provoking religious scenes. While on the run, he worked for one of Malta's most imposing men, Alof de Wignacourt, who realized one of Caravaggio's dreams by inducting him into the Order of the Knights of Malta. In Malta, Caravaggio received a large commission for the Beheading of Saint John. He got into a brawl, was imprisoned and stripped of his new title, fra (brother), escaped prison in a Tom Cruise-esque legendary manner, and fled. He went to Sicily, where he painted several religious scenes and was kept company by friends. A few months later Caravaggio reached  Naples, and an attempt on his life was made, disfiguring his beloved face. With Wignacourt and the Knights against him, and anonymous parties attacking him in the street, Caravaggio headed north for Rome to further his attempts at obtaining a pardon. Mythological accounts of his death exist, so historically accurate details are difficult to pick out, however, my favorite account is this: Caravaggio reached the Port'Ercole and got off the boat with his belongings still on board. He was arrested by a guard for essentially no reason and spent a couple days in jail. Once he had the money, he posted bail and immediately went to the harbor, where legend has it the boat that had his prized possessions – including painting(s) meant for Cardinal Scipione Borghese, who could pardon Caravaggio of his murderous crime – sailed off before his eyes. He ran after the boat along the beach, and in the hot sun, fainted, fell sick with fever, and died.
In the last four centuries, many biographers and scholars have contributed to our understanding or misunderstanding of Caravaggio.  A number of these scholars work(ed) in American universities and many more can be found all over the globe, as well. A couple contributors are not art historians by trade, but have produced compelling biographies of Caravaggio, most notably Peter Robb's M: The Man Who Became Caravaggio and Andrew Graham-Dixon's Caravaggio: A Life Sacred and Profane. Caravaggio.com has an extensive list of scholars who have contributed to the body of scholarship surrounding Caravaggio.
I'd like to focus on what you think about Caravaggio. I asked this on the website's Facebook page and Tumblr:
I was so happy with the astute  responses!
doublebifrost's response brings up one of the most important and immediately recognizable aspects of Caravaggio's art: his stark, unforgiving realism. "I always loved the fact that he used ordinary, non-rich folks as his models and never went for flattery over realism in their likeness :)" One of my favorite things about Caravaggio as a person is his stubbornness. He refused to compromise his artistic vision to merely satisfy his patrons or conform to the norm standard of representation. Despite painting for Roman 'royalty,' he still kept company with the people he wanted to – prostitutes, fellow artists, jokesters, drunkards. He enjoyed wearing the fine clothes of an Italian nobleman and carrying a sword or two. Unlike Andrea Mantegna, a painter for the court of Mantua in the Renaissance, who was treated like royalty and purportedly thought of himself as such, Caravaggio didn't place himself on a pedestal except to acknowledge that he was a good artist and that was it.
abbscules and deadsunflower both brought up another striking feature of Caravaggio's art that made his art so impacting: his use of lighting. Caravaggio's use of lighting was unparalleled in the 17th century. He mastered chiaroscuro and controlled the lighting in his painting so that it revealed, hid, or emphasized parts of the story being told on canvas. 

On Facebook, Jennifer says: "I think he totally deserves every bit of recognition he gets, if not more! I'm actually not a huge fan of the Baroque period overall, but I absolutely love Caravaggio. I think my favorite is "the Calling of St. Matthew"… I love how he recalls the gesture of God the Father in Michelangelo's Sistine Chapel in Jesus' gesture towards Matthew. The dynamic between St. Matthew and Christ and the onlookers is so powerful. I also love the detail in "The Lute Player" as well. He did an amazing job of using brilliant colors and depicting emotion without being ostentatious." Jennifer's statement contains part of the beauty of Caravaggio's art: that you don't have to like the Baroque period to appreciate it! The realism is so easy to relate to, so natural, that the viewer can't help but be drawn into what's being portrayed.
wtfArtHistory mentioned one of Caravaggio's many artistic rivals, Annibale Carracci. Rivalry is a key component to consider when studying Caravaggio's art, and this comment hits the nail on the head by acknowledging the Cerasi Chapel in Santa Maria del Popolo in Rome: "I love the juxtaposition between Caravaggio & Annibale in the Cerasi chapel, which for me demonstrates two strands of painting in 1601 :)" A quick glance at the Web Gallery of Art's page for the chapel and you can see how different Annibale's painting and representational styles were from Caravaggio. In such direct contrast to Caravaggio, Annibale's work is much more Rococo, if I may, and standing in that chapel, I imagine I would be hard pressed to take him seriously when faced with the intense, brooding imagery of the two Caravaggios nearby.  Annibale wins, in the end: Caravaggio's style spread internationally, while Annibale's style took over Italy by the end of the 17th century.
dr-attonitus described Caravaggio's Judith Beheading Holofernes as "theatre on canvas." This statement sums up the entire body of Caravaggio's work and the reaction the viewer has watching it unfold.
Several readers mentioned their favorite paintings by Caravaggio: The Sick Bacchus, The Calling of St. Matthew, The Lute Player, Judith Beheading Holofernes, The Crucifixion of St. Peter.
fauvinist suggested that Caravaggio "deserves an HBO show. x) But one that's supremely accurate and belligerent." I think we need to band together and start a petition!
It is pure joy for me to see the wealth of scholarship and general interest in Caravaggio that has bubbled up and been sustained in the past couple decades. I don't think scholars are done telling Caravaggio's story. I am certainly not!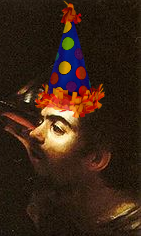 Happy birthday to a complicated, talented, groundbreaking artist.
As I was preparing this tribute post to Caravaggio, I struggled with what sort of dessert I could post an image of in celebration of his birthday. By the 17th century, cakes had taken their modern tiered, icing, decorated form, but only the very wealthy had elaborate cakes. And I have no idea what an Italian Baroque cake would have looked like, anyway. I thought about chocolate chip cookies, but they weren't developed until the 19th century. So, instead of posting an image of a sweet, tasty treat, I decided on a staple of every 17th century Italian's diet: wine!
I hope you had fun celebrating Caravaggio's birthday in this post!