CAA 2012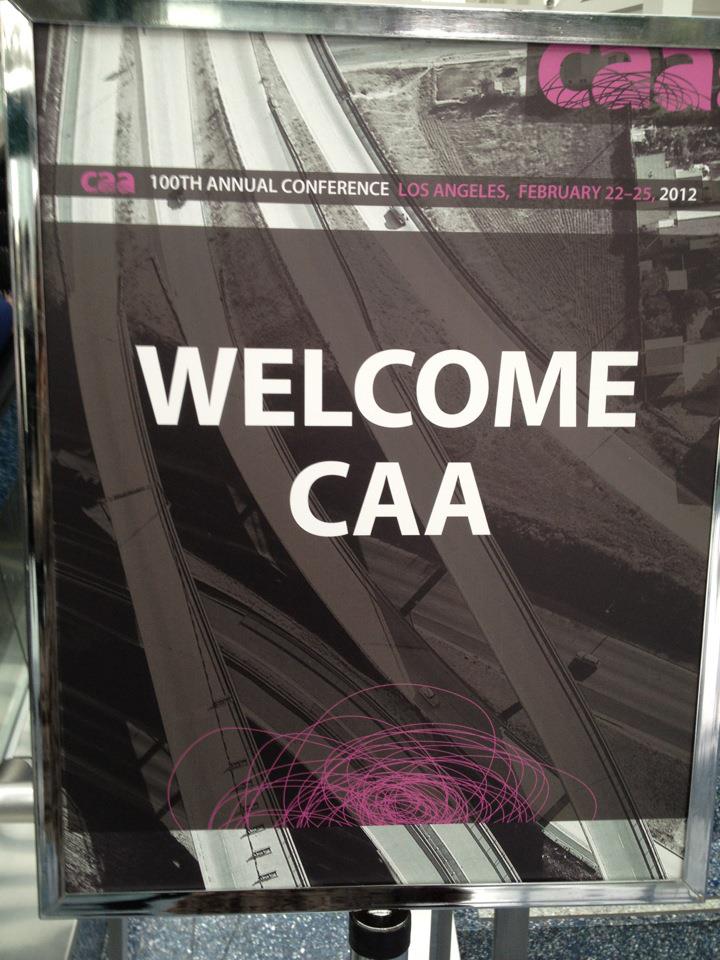 The College Art Association's centennial conference was this year in Los Angeles, February 22-25. I initially planned to attend the entire conference, but certain events at my work made this impossible.
I attended on Saturday the 25th with my husband. We got there 30 minutes before registration opened, with me thinking that the lines for registration would be full of art and art history enthusiasts. … This was not so. We spent that 30 minutes peeking into the exhibition floor and walking around to see if anyone I knew might be there as early as us. (There wasn't.) Once we registered – a quick and easy process – we had another 20 minutes or so before the exhibition floor actually opened. Luckily, our registration came with stylish tote bags full of literature, so we had fun looking at that. We went to the exhibition floor once it opened and it was surprisingly just the way I imagined it, with books and art supplies everywhere and people catching up with old friends and colleagues.
There were several highlights of the exhibition floor. The first, was that I picked up, held, leafed through, and attempted to purchase Sarah McPhee's (Emory) new book Bernini's Beloved about the life of Costanza, Bernini's (most well known) mistress. Even though I knew it didn't come out until April, I was still disappointed when the seller told me that particular copy was not for sale. I got to see it and pre-order it though! (You should, too. It's gorgeous.) The second highlight was seeing what must've been a thousand page tome devoted solely to Caravaggio that I had never heard of. The book, Caravaggio and Pictorial Narrative: Dislocating the Istoria in Early Modern Painting (Studies in Baroque Art) by Lorenzo Pericolo, has wonderful color plates and essays that I'm sure are also wonderful, but I didn't purchase it even though the retailer was offering $90 off its price. (Okay, according to Amazon, the book is 654 pages. It looks like a thousand.) The final highlight of the exhibition floor was purchasing Franco Mormando's 2011 translation of the Life of Bernini, written by Bernini's son Domenico, as well as Caravaggio and his Followers in Rome (2011) by David Franklin and Sebastian Schütze.
We attended the "Art & Architecture in Europe: 1600-1750" session, chaired by John Beldon Scott of the University of Iowa. It was fabulous. Two papers in particular stood out: the first, about  nepotism in the Vatican under Pope Paul V, whose cardinal nephew was Scipione Borghese. The second, about Carlo Rainaldi's religiously and experientially sensitive architecture. I want to share with you what I learned from these papers. They got the gears in my mind going, so I'll summarize the papers and intersperse said summaries with any thoughts I have about the issues at hand. (I will attempt to quote the presentations if I can't summarize in a way that is sufficient or coherent. Please forgive any mistakes since my notes are unusually hard to read.)
"A New Samson: Scipione Borghese and the Representation of Nepotism in the Vatican Palace" was presented by Karen J. Lloyd of Tulane University. Dr. Lloyd discussed the role of the cardinal nephew within the Baroque church and how it was allegorically described in art, specifically Guido Reni's frescoes of Samson in the papal palace. (For those who don't know, the cardinal nephew's power was essentially only surpassed by the Pope. You can imagine that such a role comes with great power, great responsibility, and lots of eyes watching.) The Samson frescoes were made in conjunction with other frescoes that Paul V had commissioned in his own apartments, with scenes from the New Testament. Though in separate spaces, the frescoes should be read together create a picture of the Papacy. Paul V's frescoes, with scenes from the New Testament, served as a visual reminder of papal power that has existed since Peter. Scenes includes the Ascension and Pentecost, because Paul V was elected a few days before the feast day of the Ascension, and was coronated on the feast day of the Pentecost. The message from his apartments is clear: His power comes from God, and he is part of a historic priestly class of divinely appointed men chosen to be the leaders of the Church. Just as Pope Paul V's power comes from God, the cardinal nephew's power comes from the Pope. The man who held this special post under Paul V, Scipione Borghese, wasn't born a Borghese, but a member of the Caffarelli family, the son of Pope Paul V's sister Ortensia and her husband Francesco Caffarelli. Scipione had to be adopted into the Borghese family to eventually support his position of power as the papal nephew. Scipione's apartments, decorated with Reni's Samson frescoes, were allegories of his role in the church. Like Samson, the cardinal nephew's role in the church was to protect and defend the church, winning converts at every opportunity. Also like Samson, cardinal nephew's strength to overcome temptation and achieve this goal comes from God.
Dr. Lloyd's paper and examination of the frescoes was wonderfully done, but what I found most interesting was what wasn't discussed. As Dr. Lloyd pointed out:
"The frescoes omit any reference to sin," something that, if you read the story of Samson, you simply cannot avoid. "St. Augustine evoked Samson as an example of why saints do unlawful things." In Samson's case, obedience to God (when he defeated the Philistines) is enabled because of this "God-allowed" sin, if you will: "even in the face of irrationality and self destruction, [Samson sinned at God's will or command.]"
That the frescoes portray a perfect, righteous hero of old was fascinating, especially given what we know about Scipione Borghese. I'm currently reading Franco Mormando's biography of Bernini (Bernini: His Life and His Rome), in which he discusses Cardinal Borghese's many failings, including lavish living, indecent sexual activities with women and men alike, and so on. (In his notes on his 2011 translation of Domenico Bernini's biography of his father, Mormando sums up Scipione's lifestyle in one word: sybaritic.) While I'm skeptical as to how completely true these discussions of Scipione's life are, I thought to myself how interesting this is in light of Reni's paintings in the Vatican. Because, even if the Cardinal Nephew merely dabbled in illicit or inappropriate activities (versus being immersed in them, the way Mormando describes), then Reni's depictions of the papal nephew's glorious role, of obedience to the Church and to God, responsible for supporting the Pope, ensuring righteous doctrine in parishes, and so on, becomes deeply ironic.
The second paper that stood out to me was "Rhetoric and Narrative in the Architecture of Carlo Rainaldi," presented by Jason Ciejka of Agnes Scott College. Every aspect of this paper was remarkable. What I found (and continue to find) most fascinating is the major role that art and architecture play in directing the worship and spiritual experiences of the laity, though this certainly isn't limited to Rainaldi's architecture.Carlo Rainaldi was an Italian Baroque architect. Rainaldi was schooled at the Jesuit university in Rome where he studied rhetoric.  He also pursued advanced disciplines such as philosophy and mathematics.   His education served him well in his career.  He was "responsive to the materials of his craft," seeking to "amplify [the] spiritual and emotional responses of the faithful."
In 1678, Rainaldi  was commissioned to build the high altar in Gesu e Maria, a church in Rome on the Via del Corso. (Note: I had trouble finding high resolution photos for this post. A Google Image search returns many results that are smaller resolution.) This project evolved to eventually include the nave as well. The altar and its sculptures serve as an "emotional prompt [for the laity to] share in the astonishment and celebration of the Virgin's coronation." The way the sculpted figures turn to one another and outward to the nave certainly supports the idea of a conversation taking place, of the direction of thought and focus.
The next example Dr. Ciejka discussed was the church of San Lorenzo in Lucina.  The altar of this church is a perfect harmony between painting and sculpture. Rainaldi was wise in choosing which marble he would use for this commission. The altarpiece, a Crucifixion by Guido Reni, has a limited earth-tone palette and the marble that Rainaldi chose complemented this. Rainaldi's mixture of convex and conclave shapes in his architecture also complimented the altarpiece, echoing the bends in Christ's back and his outstretched body. The high altar displays the "tension inherent in suffering." Christ's presence  in the church is enhanced through the ebb and flow of architecture to painting. He comes out into the sacred space, and the sacred space responds to that presence.
In his final example, La Chiesa di Santa Maria Campitelli, Dr. Ciejka saved the best for last. This church is one with a remarkable story. Tradition holds that on July 17, 524, a Roman noble woman known for helping the poor (and now a saint), Galla, was suddenly and excitedly called to by her servant. She came and a brilliant light appeared in the house. She sought the help of Pope John I. When they arrived to the mysterious light, all the bells in Rome rang at once. Angels appeared, carrying a Byzantine icon, and presented it to the Pope. The icon is thought to have saved Rome from a plague around 1656. In honor of this, Pope Alexander VII commissioned Rainaldi to design the existing church. Rainaldi's finished work can be read as the visual, permanent, continual reenactment of this miraculous story. This was achieved through Rainaldi's masterful use of light, architecture, and sculpture.  When the laity enter the church, it is dimly lit.  As worshipers move from the back of the church down the nave, they walk toward a great and wonderful light that is both real (through Rainaldi's strategically placed windows) and sculpted (gilded gold) creating a tangible, dramatic, and consistence experience of awe and wonder for the worshipers.
Dr. Ciejka's paper brought back memories of when I was in Italy's many sacred spaces. One of the most striking memories I have is walking into a dim, candlelit church in Florence – I'm still not sure where exactly it was or who it was dedicated to – and being floored when what greeted me at the high altar was a lit, gilded, wonderful Crucifixion sculpture. The Crucifixion was the center of the church, the center of all focus and thought, commanding my attention and reverence. I imagine that the laity in San Lorenzo in Lucina experienced similar feelings.
Attending CAA was a momentous event for me (and I can only imagine how momentous it would be had I been able to attend for the full conference!) Even though I didn't get to meet anyone new or any of my "scholarly heroes," I enjoyed basking in the sweet, art historical words that accompanied the sessions. After being outside of academia proper for a year and a half, it was refreshing to be with and hear words from people who are of the same mind, who understand why art history is important and advocate its cause. Needless to say, I'm very excited to attend in future years.
~
REFERENCES
Lloyd, Karen J. "A New Samson: Scipione Borghese and the Representation of Nepotism in the Vatican Palace," presented in the session Art & Architecture in Europe: 1600-1750 (chair: John Beldon Scott), February 25, 2012.
Ciejka, Jason. "Rhetoric and Narrative in the Architecture of Carlo Rainaldi, presented in the session Art & Architecture in Europe: 1600-1750 (chair: John Beldon Scott), February 25, 2012.
Domenico Bernini, The Life of Gian Lorenzo Bernini, trans. Franco Mormando, Penn State Press, 2011.
Franco Mormando, Bernini: His Life and His Rome, University of Chicago Press, 2011.