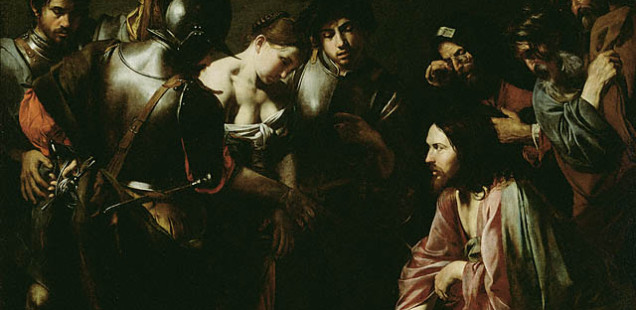 Valentin de Boulogne's Christ & the Adulteress
One of my favorite accounts of Jesus' life comes from John 7:53 – 8:11. While at the temple teaching, the Pharisees bring Jesus a woman who was caught in adultery. As they bring charges against the woman before Christ, saying she should be stoned for her sin according to the Law, Jesus kneels down and begins writing in the sand. Throughout the narrative, the Pharisees have been trying to trick Jesus into saying something incriminating and, according to John, they consider that this will lead to such a statement. However, when Jesus stands, he says something that they perhaps did not expect: "Let him who is without sin among you be the first to throw a stone at her."
In the 1620s, French Baroque artist Valentin de Boulogne painted a scene from this story. It is for me one of the most magnetic works in the Getty's collection. (The last time I was there, it was hung to the right of my favorite Getty painting, Christ Crowned with Thorns, by Gerrit van Honthorst, making for an especially powerful juxtaposition.) What captivates me about this work is the emotionally charged gaze between Christ and the woman – or, perhaps, lack of a gaze. She stares down at the ground, her clothes falling off her shoulders, hands dirty and bound, soldiers waiting to arrest her, men judging her. Christ, it seems, is the only figure who is really looking at her. 
Upon hearing Jesus' unexpected words, the men cease to rally against the woman. There is a certain calm in this painting, the electrifying moment between Christ and the downcast and outcast woman: his intense gaze, matched by his intense insistence on righteousness.
In the midst of this moment, the men around the woman silently consider their own transgressions. Which of them has the right to cast the first stone?
Through his mastery of his brush, Valentin created not simply an artwork, but a deeply moving visual portal into John's Gospel. Mixing contemporary and biblical elements (especially seen in the clothing), the line between history and reality is blurred. In a way, history is the present reality; that is, for the faithful, Christ cannot be relegated to the past. He lives, he is the Word, and the Word is living.

For the word of God is living and active, sharper than any two-edged sword, piercing to the division of soul and of spirit, of joints and of marrow, and discerning the thoughts and intentions of the heart. And no creature is hidden from his sight, but all are naked and exposed to the eyes of him to whom we must give account. – Hebrews 4:12-13
Like the Adulteress, the contemporary faithful stand spiritually naked before Christ, who sees all, and does not condemn.
If Valentin's painting was originally in situ beside Gerrit van Honthorst's Christ Crowned with Thorns, the viewer may consider this short account from John as one of the more powerful narratives in his Gospel. For it is because of Christ's Passion that the sins of the world – and the Adulteress, and the Pharisees – are washed away.