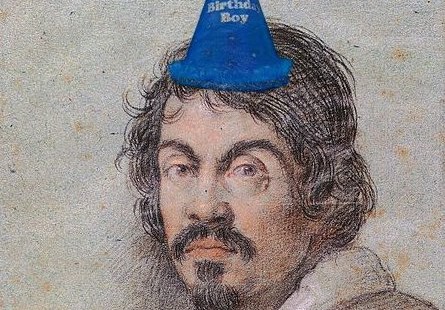 Happy Birthday, Caravaggio!
Happy birthday Caravaggio! 
This year's collection of images celebrating his birth are some of his self-portraits. The most moving of these, for me, are the ones where he inserts himself into the narrative: as a witness (fleeing) from Matthew's martyrdom, as the bearer of light in The Taking of Christ, or as the defeated Goliath, whose consciousness hovers between life and death. The detail from the Beheading of Saint John (the last image in this gallery) shows the only signature he placed in his work. Flowing from the pool of blood pouring out of John's neck, it reads "F. Michelangelo," representing his new appointment as a fra (brother) of the Knights of Malta. (You can see these pictures arranged best on Tumblr.)
When I tell people I specialize in Caravaggio, I often hear: "What's left to be done?" The question doesn't have to be verbalized. It is of a gnawing sort, and I think it testifies to a lack of historical imagination. The answer is: so much. As a scholar, I am not interested in yet another rehearsal of the narrative of Caravaggio's life. Until new primary sources are discovered, we have that wrapped up for now, although Caravaggio's early life before he moved to Rome remains mysterious. What I am interested in is looking afresh at Caravaggio's oeuvre. There is much that can still be said, wrestled with, and interpreted (or reinterpreted), about his work.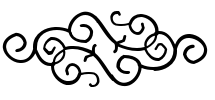 For those who don't know, here is a little bit about Caravaggio
Caravaggio was born Michelangelo Merisi in 1571 in Milan. His father, Fermo, was a stonemason for the Marchese of Caravaggio, Francesco Sforza. As a youth, Caravaggio was apprenticed to Simone Peterzano, a native of Bergamo and purported pupil of Titian, whose painting style fused Venetian colore with naturalism and the maniera. Caravaggio was highly influenced by the Lombard artists and artworks he encountered during his youth.
Caravaggio arrived in Rome at the age of 21 in 1592. He found work in the famed Cavalier d'Arpino's workshop painting flowers and fruits. Caravaggio's mastery of naturalist still life painting was unparalleled in Rome at this time. He was soon under the patronage of Cardinal Francesco Maria del Monte, for whom he painted allegorical scenes celebrating love and music. Del Monte's circle of friends were impressed with Caravaggio, which led to commissions from Vincenzo Giustiniani and Matthieu Cointerel (for the Contarelli Chapel in San Luigi dei Francesi), among others. The Contarelli Chapel was his first major public commission, and its masterful composition is in part responsible for Caravaggio becoming Rome's premiere religious painter. Some of his works, like the Death of the Virgin, roused controversy and were never publicly displayed, while second versions of some works, such as the Conversion of Saint Paul, were accepted. Caravaggio was stubborn about his artistic convictions, and in his stubbornness, he changed the way religious art was made, perceived, and experienced.
Art was not all Caravaggio was known for. Extensive police records illuminate Caravaggio's volatile, often violent, personality. A series of arrests culminated in the 1606 murder of a former friend, Ranuccio Tomassoni. The exact circumstances and motive of Ranuccio's death are still debated today, with theories ranging from a gang fight to a quarrel over a love triangle to a murder due to a mere 10 scudi bet over a tennis match. What is certain is that neither party was alone and that Ranuccio died (whether or not this was premeditated or intentional) and Caravaggio was wounded.
Caravaggio fled his beloved city, and the Pope swiftly condemned Caravaggio to death for his crime. I have outlined elsewhere what a death sentence in Rome entailed in 1606. Caravaggio had a network of influential patrons and protectors across Italy who hoped for his safe return to Rome but who kept him sheltered during his exile. He spent most of his exile in Naples, Malta, and Sicily, where he was welcomed as a famous artist and where he continued to receive commissions.
In Malta, he was made a Knight by the Grand Master of the Knights of Malta (the Order of Saint John), a move that was sure to propel his pleas for a papal pardon. Caravaggio needed permission from the Pope to become a Knight, as he was not of noble birth and was a fugitive. His only signed work, The Beheading of Saint John the Baptist, made for the Order's oratory, prominently displays his new title, Fra Michelangelo, flowing from the pool of blood around John's neck. In 1608, after his new appointment, Caravaggio was imprisoned for a brawl involving other Knights (the motive for which is still mysterious). He escaped from the Order's prison and the island of Malta in a Hollywood-worthy manner. By December, the Knights stripped him of his title in absentia, casting him out as "a foul and rotten member."
Caravaggio went to Sicily, where he sojourned with his old friend Mario Minniti, and then returned to Naples. Upon his return, he was viciously attacked by unknown assailants and left for dead. Caravaggio survived, but his face was severely disfigured. In 1610 with the notion that his papal pardon was imminent thanks to the work of his friends and protectors, Caravaggio began his journey by boat back to Rome. He brought at least three paintings with him, perhaps intended as gifts for Cardinal Nephew Scipione Borghese. When his boat docked near Rome, Caravaggio was mistaken by local authorities for someone else and arrested. The facts here get tricky, but the common narrative is this: He spent a couple days in jail until he had the money to post bail, only to see the boat to Rome sailing off into the distance with his possessions. Caravaggio ran after the boat, along the rocky shore, until, after exerting all his energy in retrieving his possessions, he fell sick with fever and died on July 18 at the age of 38.
He was of a fantastic humor, indeed bizarre,
Pallid of face, and his hair
Thick and curly
His eyes lively, yet deeply sunk…
[he was]
The great protopainter,
Marvel of art,
Wonder of nature,
Though later a victim of misfortune.
– Giulio Cesare Gigli (1615), from Helen Langdon's Caravaggio (1999, p. 391).