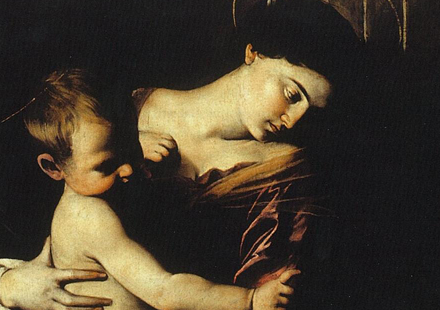 A Quiet Holiness: Caravaggio's Madonna di Loreto
Gentle, sensuous, tender, human. These are just a few of the words that describe Caravaggio's depictions of the Virgin Mary. His Marian works rarely, if ever, reflect the same vibrant optimism seen in his peers' paintings of the Virgin.1 Rather, glorification of the holy in Caravaggio's art takes an unassuming form. His sacred figures are utterly human, yet, when he chooses, he sets them apart by halos which shine ever so subtly through the immense darkness of his canvases. This inclination to show the holy in a stripped down manner is what Walter Friedlaender has referred to as Caravaggio's "realistic mysticism,"2 reflecting "a great simplification of devotion."3 Devotional practices like the Spiritual Exercises and the rosary encouraged the faithful to imagine the fullness of Mary and Christ's lives in their mind as if were experiencing a sensory encounter with the divine.4 And many of Caravaggio's religious paintings were no different: they can be read as profound physical projections of what one might envision when meditating on the earthly lives of the holy.
Caravaggio's Madonna di Loreto (c. 1603-5) effortlessly "weave[s] together layers of reality and illusion."5 Standing on her doorstep, Mary, dressed in a rich, velvety dress and sheer shawl cradles the Christ Child as she gazes at two pilgrims who kneel before them in adoration. Christ's face is cast in shadow and his tiny hands are in the act of blessing. The pilgrims, dirty and unkempt, are physically close to the Madonna and Child, as though their hands could reach out and gently touch the hem of Mary's clothes. One can almost feel the their tiredness being replaced with awe after reaching their sacred destination. Were it not for the pilgrims' adoration and Mary and Jesus' delicate halos, the humble Virgin and her Child would hardly seem divine. And yet, this is Caravaggio's point. He pulls Mary and her Son down from the heavens, does away with elaborate markers of holiness, and restores the vision of their earthly lives. Mary is human.
The theme of the painting stems from the cult devotion to the Madonna of Loreto, which had become popular in the late sixteenth century.6 The town of Loreto was famous for containing what legend maintains was Mary's house, which "had flown there from Nazareth in search of safety from the dangers of war."7 The Virgin's humble, stone home was a sacred place: it was here that she was conceived, where the angel Gabriel appeared to her, and where Jesus grew up.8 The house "made a powerful appeal" to the faithful, who could imagine Mary and Christ living and breathing there.9
Caravaggio's earthly, realistic vision of Mary and Christ was inspired by popular devotions which emphasized the mental envisioning events from Mary and Christ's life. These devotions, especially the rosary, were undiscriminating and could be practiced by any member of society who knew their tenets. Meditating on and mentally experiencing Mary and Jesus' story was a way to enter into the presence of the divine; an intimate encounter made palpable through the senses.10 As with these devotions, in Caravaggio's Madonna di Loreto, Mary and Jesus transcend time and space. They are utterly common and contemporary people; but they are holy and adored, and appear as if they are any Roman mother and child. The model used for the figure of Mary was "a young girl of a poor but honorable family" – fitting for the representation of a woman who was once  a poor, young mother.11 Contemporary critics were outraged at the prominent placement of the filthy pilgrims,12 whose presence in such a large and important work violated the cultural proclivity for decorum. Although Caravaggio's naturalistic depiction shocked Rome's elite, it may have been an intimate source of validation for the everyday faithful who saw the painting in the church of S. Agostino.  Mary's gentle encounter with the poor in this painting is not unlike an event in her own life, when Gabriel appeared and told her she would be the mother of the Son of God and all she had to offer was her faith in God's will. Caravaggio's Madonna di Loreto is a portal to a treasured encounter between Mary and her Son. Here, the divine appears to the poorest and most simple of people, who have nothing to offer except their "humble faith."13
Blessed are the pure in heart, for they will see God. – Matthew 5:8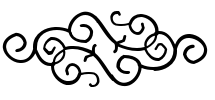 Caravaggio's paintings of Mary: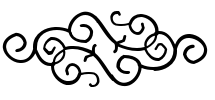 NOTES

1 Such as the 1604/5 Madonna di Loreto attributed to Annibale Carracci in Sant 'Onofrio, Rome.
2 Walter Friedlaender, Caravaggio Studies (1955), 121.
3 Ibid.
4 Ibid.
5 Helen Langdon, Caravaggio: A Life (1999), 287.
6 As well as a response to the Protestant attacks against Marian devotion. Ibid, 285-7.
7 Ibid., 286. Howard Hibbard, Caravaggio (1983, pp. 186-7) notes that there are iconographic precedents for Caravaggio's depiction of the Madonna di Loreto. Some prints showed the Madonna and Child with a kneeling pilgrim before them.
8 Ibid.
9 Ibid.
10 Friedlaender, 121.
11 Ibid. 189 and Langdon, 298-9.
12 Ibid., Langdon, 289, Hibbard, 188.
13 Hibbard, 188.
REFERENCES
Friedlaender, Walter. Caravaggio Studies. Princeton: Princeton University Press, 1955.
Hibbard, Howard. Caravaggio. Boulder, CO: Westview Press, 1983.
Langdon, Helen. Caravaggio: A Life. New York: Farrar Straus & Giroux, 1999.