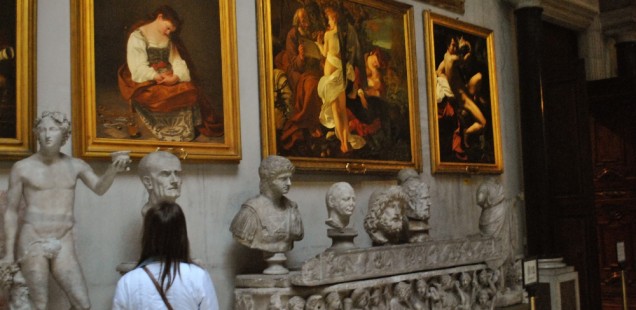 Post-Grad Life
Looking back on the past year, it's not hard for me to realize why it's taken so long for me to post on this site again. Time flew by as I worked on freelance writing, traveling abroad in Italy and Ireland, finishing my Master's thesis and coursework, and planning and preparing for a new web project.  I graduated with my M.A. in May and life has since slowed down.
In January this year, my husband and I took each other to our favorite places, respectively Ireland and Rome. We spent about ten days in Ireland exploring ruins and relaxing in the countryside. One of my favorite sites was Athassel Priory, a twelfth-century Augustinian priory just outside of Cashel. To get there, we had to drive down a narrow country road, climb through an old rusty gate and walk through a field covered in cow pies. It was worth it – we had the entire priory to ourselves and spent a couple hours exploring.
After traveling around the west coast of Ireland,we went back to Dublin and flew from there to Rome for a brief three day visit. I wanted to see every Caravaggio in Rome not in a private collection, and we were successful! Not surprisingly, Caravaggio still had a crowd in the middle of winter, except at the Doria Pamphilj, where we were the only visitors to the gallery.
One of the biggest highlights from this trip to Rome was going to the Sistine Chapel. We were the only ones in the Chapel for a glorious twenty minutes (besides the guards). Despite being to Rome two times previously, I had never been able to make it to the Chapel, so being able to have such a large amount of time alone in this incredible space was unexpectedly emotional.
Another highlight from Rome was experiencing the Ponte and Castel Sant'Angelo through the point of view of my Master's thesis, which examines the use and urban experience of the bridge in rituals of public execution in the Early Modern period. I was able to take some great reference photographs and I was inspired to write about the bridge in a new way.
In March 2014, I presented my research at the Renaissance Society of America's annual conference, and about a month after that, my thesis was officially completed and approved by my readers. I then had a great time researching and writing term papers for my last two seminars. One paper looked at the self-portraits and studio scenes by Adriaen van Ostade, a Dutch artist who hasn't quite made it into the mainstream (but should), and the other was a refute of Edward Said's critique of Dante's Inferno.
Now I am working on getting ArtHistory.us, a new open access art history journal, off the ground. My husband and I have spent the past few months researching and collaborating on this project and are very happy with the result so far. More information can be found here.
I assure you I won't disappear for long again! Thanks for sticking with me. For those of you who only follow this website, you might consider also following my Tumblr, where I continue to post content almost daily. You can also follow me on Facebook.